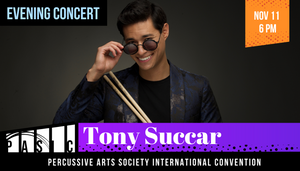 WHEN: 6 pm, Saturday, November 11, 2023
WHERE: Sagamore Ballroom, Second Floor, Indiana Convention Center, 100 S Capitol Ave, Indianapolis, IN 46225
TICKETS: $25
A two-time Latin Grammys winner, Tony Succar is an artist-producer, composer, and arranger whose talents stem from a passion for music given from an early age.
Born in Lima, Peru and raised in Miami, Florida, Succar is grateful to have come from a family of musicians. It was that early encounter with music of such influence that it would mark the foundation and preparation of him for what was to come. "I had the privilege of being raised in a family of musicians; I couldn't be more grateful," Succar explained. His gratitude goes beyond those who have supported and encouraged him in his family; He reaches out to his admirers, fellow musicians, teachers, and other musical influences.
Succar's sound is refined and distinctive. His fast-paced songs have unmatched explosive energy, while his slower arrangements are soulful and captivate the listener with the intricate nuances that are signature to his sound. He has performed at the Caribbean Sea Jazz Festival (Aruba), the Ravinia Festival (Chicago), Auditorio Telmex (Mexico), Vivo Beach (Puerto Rico), Tempo Latino (France) and the Latin Grammy Awards 2019 (MGM Grand Las Vegas), among others.
His musical diversity is well known in the industry, having worked with an impressive array of talented artists, including Tito Nieves, India, Jon Secada, Marc Anthony, Sheila E., Arturo Sandoval, Judith Hill, and Obie Bermudez, among others.
In 2023, Tony released his mother Mimy Succar's debut album, titled "Mimy & Tony." Mimy and Tony represent the cornerstone of the Succar Tayrako legacy, which is the fusion of music from different countries (Peruvian-Japanese), communities, and styles. It is a true testament to the blend of race, culture, and traditions that extend from Latin America and the Caribbean to Africa and the East (Japan). Moreover, within the album's theme, it revolves around a message of overcoming challenges, resilience, positivity, equality, celebration of diversity, and, above all, family. 
Want more than just one show? See this concert, plus over 100 clinics, performances, and sessions at the Percussive Arts Society International Convention from November 8-11, 2023, in Indianapolis. Register today at pasic.org/registration.